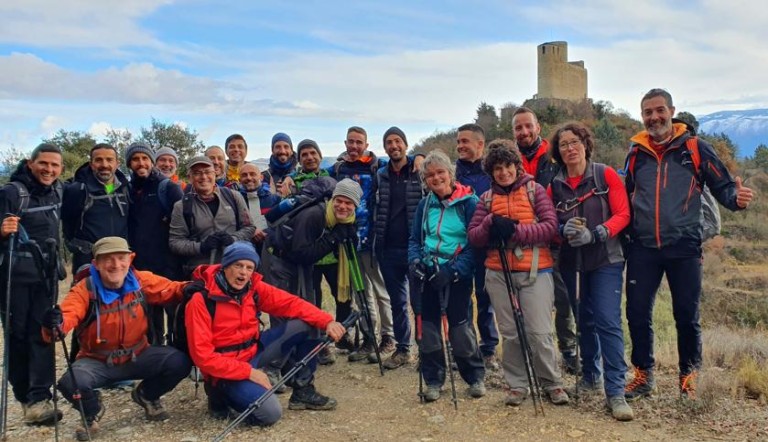 Through the initiative of volunteers, the Panteres Grogues mountain section conducts various non-competitive activities related to mountain sports: hiking, mountain ski and snowshoes, vias ferratas, canyoning, mountain climbing. The outings are mostly held (but not exclusively) on weekend and holidays.
The mountain section organizes outings open to everybody and all levels, as such, you do not need much experience to participate. However the outings depend on the organizing volunteers, and at times the outing levels may vary and may not be for all. As more members organize outings, the greater the variety of available activities.  
In this section there are no trial days. Any person can join an outing (except for those where membership is required) but slots are reserved for club members and only when slots become available non-members can join. 
Mountain does not have a fee, only a Panteres Grogues membership and accidental or federated insurance are required. 
To take part on the outings, you only need to join the section's mailing list, where our volunteers publish outings, difficulty levels, necessary equipment, requisites, the max numbers of participants and costs. (To share lodging, activities and carpooling if needed).
Whoever is interested in the outing needs to send an email to the organizer to join the waiting lists. 
The hiking section publishes a calendar with the proposed outings for the current year after the bi-annual meetings of June and December which may vary depending on the availability of organizers. This year, due to the uncertainty of the health restrictions we have not been able to publish the calendar. 
In addition, the section meets twice a year to have an overview of the past outings, to speak of members proposals and to detect needs. 
The goal is to enjoy the mountain with other people and to create an open, safe and free of discrimination space where everyone can feel included.
Check the calendar of excursions.
Contact the section to join the mailing lists and/or to get more information.